Drawing Under the Skylight at the Bo Bartlett Center
Opening Reception Sept. 10, 2019 5- 7 pm Bo Bartlett Center, Columbus, GA
Corporate Commissions in Progress
Suzanne Reed Fine, AWS
Signature Membership Status awarded to Suzanne at the Salmagundi Club, New York, April 27, 2018 by Antonio Masi, AWS President and Michele Izzo, AWS Awards Chair.
American Watercolor Society 2018 New York
With my long time friend and mentor Stephen Quiller at the awards banquet.
"Protective Coating"
American Watercolor Society "Protective Coating" acrylic and casein on paper, NFS. 30x22 will be in the American Watercolor Society's 151st International Exhibition in the historic Salmagundi Club in New York City, April 9-28, 2018. Open to the public!
American Watercolor Society
150th International Annual Members Exhibition, Salmagundi Club, NewYork, NY April 2017
American Watercolor Society NYC
My painting, "Lark" in the background from the Awards dinner. April 2017. Mr. Tony Bennett honorary member honoree.
Art For Education
'10x10 Exhibition' procedes to Arts in Education, Columbus Museum, Columbus, GA April 2017
Rembrandt's palette
Rembrandt's Studio, Amsterdam
Taste of Creede 2018, Creede, Colorado
Quick Draw event at the 2018 Taste of Creede which welcomes the summer and tourist season in the mountain town. Weekend events include chef cook off competitions, live bands, Quick draw events bringing artists from all over the southwest for one hour of painting or drawing, with the works auctioned off to the highest bidder in support of the Chamber of Commerce.
C. Waters Gallery Summer Show
Suzanne Reed Fine, Stephen Quiller, Peggy Morgan Stenmark at the C. Waters Gallery Summer Show 2017. Creede, Colorado
C. Waters Gallery Artists
From left to right:
Suzanne Reed Fine, Colleen DeSanto, Peggy Morgan Stenmark, Kris Gosar, David Montgomery, Randall LaGro, Croix and Chere Waters, Owner.
Home is Where the Art is Bo Bartlett Center
Opening exhibition of the Bo Bartlett Center Outreach program Home is Where the Art Is, with Betsy Eby. This is one of the community outreach programs established and run by the volunteers of the BBC in Columbus, GA. Each week they meet at the safe house to provide artistic materials, support, encouragement and artistic exploration for people in the homeless community.
The Taste of Creede
Plein Air painting for the opening of summer season in Creede, Colorado, 2015
"Wayfarer"
Seeing how it looks on the wall of a friends studio.
Roast Coffee, Alamosa, CO
Great coffee, food, atmosphere and artwork!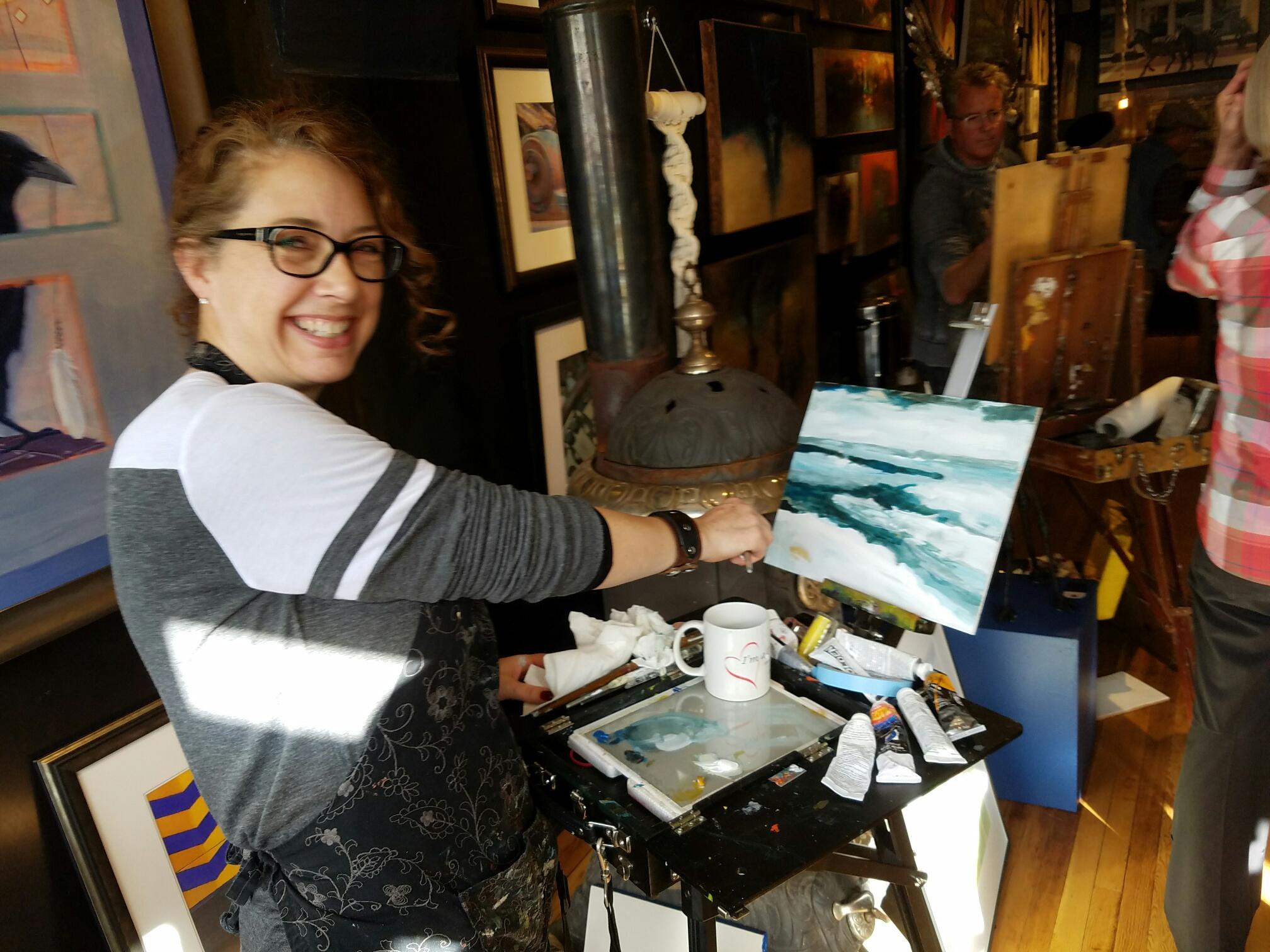 Cabin Fever Daze
Painting indoors, Colorado in February!
Cabin Fever Daze, Creede, CO
Painting indoors for this one….near the wood stove.